Chris, has been an Outreach worker for the Basement for nearly two years.
The Outreach team liaise with rough sleepers and street drinkers in the Liverpool area connecting them with support through the Basement or external agencies depending on their individual needs.
Having helped a number of people get on the road to recovery, Chris wanted to hit the pavement himself and raise money for the Basement through competing in the Liverpool Half Marathon…  
Liverpool Half Marathon 2013 – Chris's story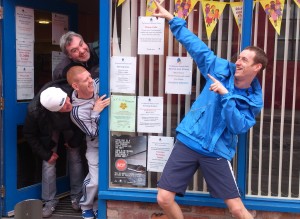 Working as an outreach worker for The Basement Advisory Centre I see first hand the daily struggles and barriers that our service users face.
At The Basement we rely on funding and donations from the public and investors. In September 2012 I decided to sign up for the Liverpool Half Marathon in March 2013 and to use this opportunity to raise some much needed funds to help us continue our great work. I wasn't going to do this alone though, so after a few days of nagging Debbie (Finance Department) she agreed to join me.
Our training began in October 2012 and since then we have been running around 4-5 times a week, clocking up around 40-50 miles a week between us. Someday's jogging is great fun, but most times it is raining or snowing and you really have to find the motivation to continue. Knowing the money we raise will go towards a cause we both strongly believe in has helped us a lot, and continues to be a great motivating factor and keeps us going that extra mile.
There's still time to support us
The support of our families and friends and the great donations we have received continues to motivate us and is much appreciated, but we still believe we can raise more. It does not have to be hundreds of pounds, just knowing someone has donated what they can afford really helps, not only us but a fantastic organization that continues to go above and beyond in helping vulnerable adults in Merseyside. With the introduction of bedroom tax and the increased cuts in benefits it is more important this year that we receive your donations and continued support.
Thank you and see you at the finish line!
Chris