On Thursday 27th March The Basement co-hosted a networking event with Ubiquity PR in the stylish surroundings of Malmaison Hotel in Liverpool City Centre.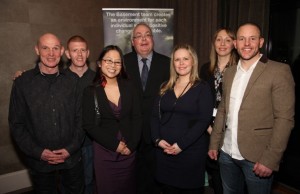 The venue, a far cry away from the world that staff and volunteers at the Basement work within, helped to illustrate the massive divide in the city between some of the most vulnerable people living on the streets to some of the most affluent who run their business empires from the very same 'space'.
The purpose of the event was to reduce the stigma associated with homelessness by reinforcing the message that 'we are all just one wrong decision away from a life on the streets' and this was certainly achieved, as Joel from Ubiquity PR who helped to organise the event explains…
"From the moment we stepped in the door, The Basement provided a real wake up call. We wanted to do more than just handle an event. Our aim was to alarm, excite and generate interest in what is already being done at capacity levels, to help the many untold stories of people made homeless by life's marginal throw of the dice.
We'll be spending the rest of this year unapologetically driving the same messages, so expect to hear a lot more about The Basement's plight and work in 2013!"
Although the event was not intentionally designed to be a fundraiser, £1175.00 was raised on the night from the 70 people who attended as well as a series of good will gestures and referrals to support The Basement in other ways in the future – so that together we can empower those people who fall into the trap of homelessness to change their lives for the better of themselves, their families and the community.
For information on future Ubiquity PR networking events please visit: www.ubiquitypr.co.uk
If you are a business looking to demonstrate your social impoact – allow the Basement to help by supporting us – click here for more information!