Time To Shine
Categories: Events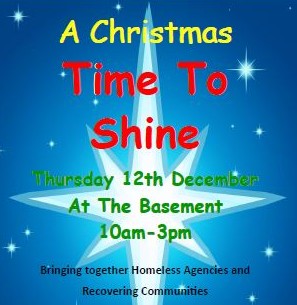 Come and join us for a celebration of life, recovery and even a few carols this Christmas!
The Basement will be holding a festive 'Time To Shine' event on Thursday, December 12, 10am-3pm.
Top class entertainment from the Recovery and Homeless community – and a hearty hog roast for lunch.
Everyone welcome!
Download the poster for the 'Time to Shine Christmas 2013' event by clicking the link below: