Adecco Scouse Night
Categories: News
Adecco staff serve up Scouse to rough sleepers during the Basement's evening drop-in service.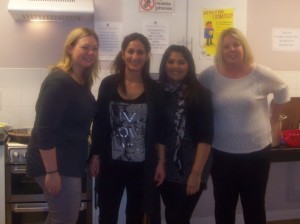 A group of staff from the world-famous Adecco recruitment agency served up super tasty Scouse to rough sleepers at the Basement, during a five-hour cooking marathon.
Adecco employees have the opportunity to use one working day a year to carry out charitable work within the community, as part of corporate social responsibility.
The four Adecco colleagues, who represent different regions across the UK, chose The Basement because they realised the difficulties that homeless and low-income people face in affording hot, nutritious food. What better way to give back to the community than cooking for people accessing our rough sleepers drop-in?
Gemma, Marcia, Sharon and Zoe 'applied' themselves to their generous task by buying the necessary ingredients, preparing and then dishing up the wonderful food to our service users, who all left The Basement happy and with a hot meal inside them.
The group were very impressed by the service provided by The Basement and hope to return to cook for people accessing our services once again. To read more about corporate social responsibility at Adecco click www.adecco.com/csr/default.aspx