Sugar Cupcakes (purveyors of Liverpool's finest cupcakes and cheese cakes!) have been gathering donations at their Picton Road store on behalf of The Basement Advisory Centre.
A massive Christmas sack full of selection boxes, Christmas crackers and toiletries where delivered to The Basement by one of the Sugar Cupcakes owners Tracy who commented;
'At this time of year everyone is gearing up to spend time with the family and as a family run business we wanted to do something that would help those living on the streets away from their families and friends at Christmas time.'
Customers were able to drop off donations at Sugar Cupcakes while collecting their orders of cakes in time for the festive season, items donated included:
Disposable razors

Shaving gel

Shower gel

Baby wipes

Toothpaste

Tooth brushes

Antibacterial hand wash

Spay deodorant
If you would like to donate any of these items please drop them into Sugar Cupcakes, Picton Road, Liverpool – But you have only got until the end of January! After that please bring items direct to us at The Basement on Parr Street Liverpool. Make sure you check out Sugar Cupcakes on Twitter (@Sug8r) to keep up to date with how our collection is going!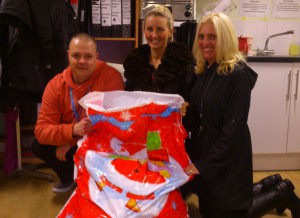 Items The Basement cannot accept include:
Roll on deodorant

Bars of soap

Flannels

Sponges

Bubble bath