On his way to see a concert at the Liverpool Echo Arena, Owen who is 12 years old from Widnes, was shocked to see the amount of rough sleeping people on the city.
Inspired by the gig he went to see that night Owen wanted to do something that would help people who are homeless by putting on a gig of his own, which raised a massive £1000 for The Basement.
When asked why he chose the Basement out of all the agencies who work with homeless people in the city, he said 'Homelessness is something I have been interested in for a while, so after researching organisations on the web, I came across The Basement and liked the way they encourage people who have experienced homelessness to become volunteers with the charity'.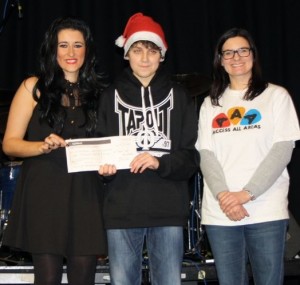 Kelly from The Basement who collected the cheque from Owen at the Studio – Access All Areas Venue in Widnes – where the gig took place, commented
'I think it's amazing how such a young person recognises how much of a struggle homeless people face and think he has done a brilliant job at organising a great event and raising so much money for our charity – the money will make a huge difference to the people we work with'.
If you like what we do and want to support The Basement find out how here!