Put another shrimp on the barbie! Basement volunteers celebrate achievements with BBQ party in the park
Basement volunteers recently made hay while the summer sun shone, celebrating their achievements over the past year, with a party in Sefton Park.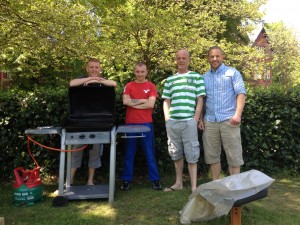 More than 25 volunteers were treated to a sizzling BBQ feast, prepared by Basement staff, as a special thank-you.
The celebration event, which coincided with National Volunteers' Week (June 1-7), gave volunteers a welcome opportunity to relax and spend time together away from The Basement office.
The hard-working volunteers have fulfilled a range of important support duties, including organising events such as Time to Shine, during the last 12 months.
Michael Edwards was named 'Volunteer of the Year', by Basement staff, for the support he provides to The Basement's outreach and drop-in services. The Anfield resident received the award for his hard work and commitment, as well as his professionalism.
As Mark Dowd, Learning and Development Manager for the Basement, explained: "Michael has become an integral part of the team and his work has been of a fantastic standard."
Then it was game on!
The group split up into teams – 'boys versus girls' – for a football match followed by a highly competitive game of rounders. And as the heat continued to rise, so did the number of runs notched up by the boys who were victorious.
Mark said: "We would like to thank all our volunteers for the amazing work that they do. We truly appreciate their work and achievements – our charity wouldn't be the same without them.
"I'd also like to thank our volunteers and staff for taking the time to come to the celebration event – a great time was had by all. And, on a personal note, I am delighted to have captained the winning team!"
Would you like to volunteer with The Basement?
We offer a 10-week accredited Volunteer Training programme, covering homelessness, drug and alcohol awareness, mental health and much more. Participants are required to complete 30 hours of voluntary work to complete the course – and are welcome to continue volunteering after that period. For more information visit www.the-basement.org.uk/services/learning-and-development/