Staff and Volunteers at The Basement 'dashed for drawers' on Sunday 2nd December in the 2012 Liverpool Santa Dash.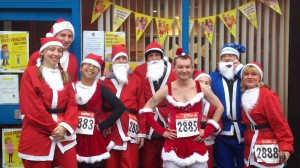 The team donned their full festive gear to raise money to buy new underwear for homeless service users of The Basement's drop-in centre which see's over 40 people visit each week from 5.30 to 9.00pm.
The Basement drop-in centre offers support for rough sleepers to come in from the cold, take a shower, talk to one of our support workers, access counselling and now due to the success of our Santa dash fundraiser – get some clean underwear!
Michelle Smith, Director of The Basement homeless charity commented:
"Raising money for underwear may seem like an unusual request, but it makes a massive difference to our service users. I'm sure everyone can appreciate how having small things in life like clean, new underwear can increase your self-esteem and make you feel better about yourself and that's what the Basement is all about – helping people to help themselves."
If you would like to donate to The Basement's 'Dash for Drawers' campaign, please follow the secure online donation link: